CyberOne
.
CyberOne is a leading cybersecurity company that offers its clients improved cyber defences, and accelerated detection and response, through award-winning solutions.
| | |
| --- | --- |
| Business type: | Business-to-business |
| Website type: | Corporate & LeadGen |
| Live site: | cyberone.security |
| Services used: | |
This valued client approached us wanting to showcase its partnerships with leading companies, such as Microsoft, Okta and KnowBe4.
The CyberOne team knew that a complete rebranding was necessary to put the company in the spotlight, enhance its visibility, and position itself as a credible competitor in the cybersecurity industry.
From an initial audit to the launch of the new CyberOne brand, we provided a broad range of our brand, design and marketing services.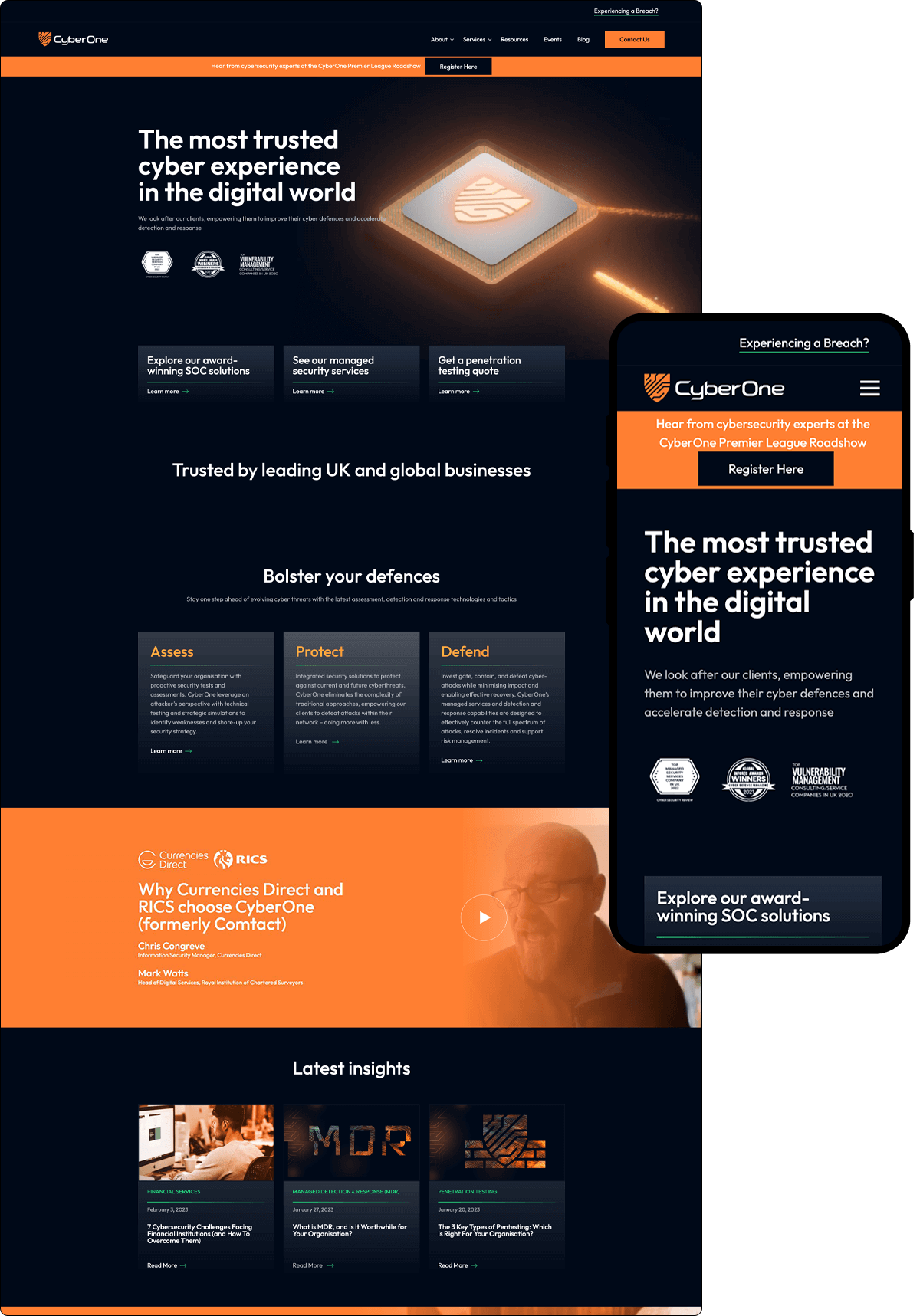 Unique Responsive Worldwide Representation.
Learn more about how our award-winning cybersecurity services could benefit your business.
Outputs
The rebranding was a success. The company's new brand has helped to increase its visibility, enhance its credibility, and position itself as a worthy competitor in the cybersecurity industry.
Home Statements
.
Home Statements offer products and services to improve homes, inside and out. This family-run business combines a passion for quality bespoke home improvements with the desire to provide skilled, trusted and reliable contractors to create those amazing statement pieces for homes and gardens.
| | |
| --- | --- |
| Business type: | Business-to-business |
| Website type: | Corporate & LeadGen |
| Live site: | homestatements.co.uk |
| Services used: | |
As a new company, the Home Statements team required several services, including branding, web design and build, and data analysis. We host and maintain their website and provide ongoing on-site SEO, and competitor and keyword research and development services, to continually drive traffic to their site.
Working closely with the Home Statements team, we've been able to cater to their specific needs and have been instrumental in getting their business off the ground. The continued support we provide them with will see the company go from strength to strength.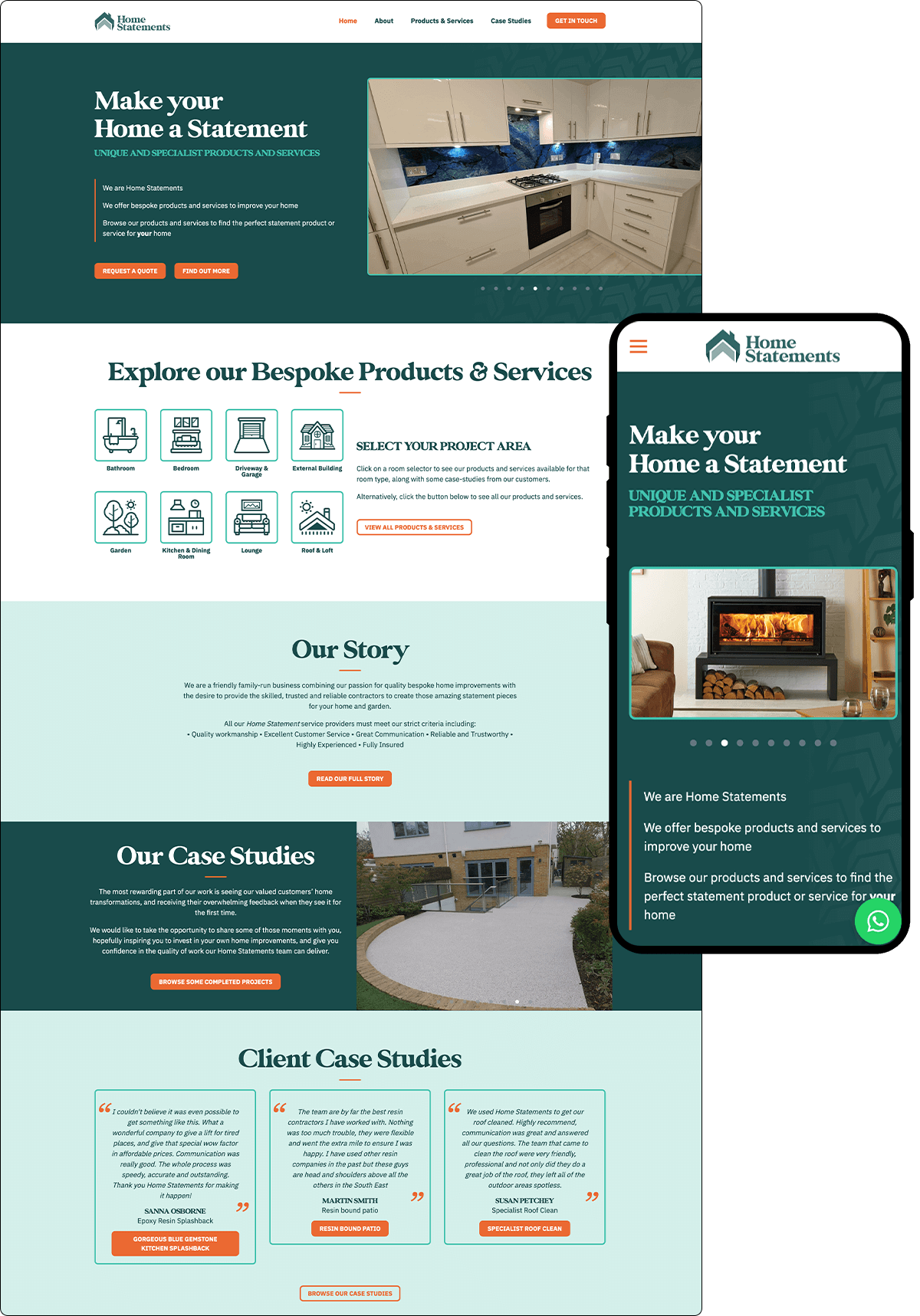 Make Your Home a Statement
.
Learn more about how this exciting company can help your home stand out.
Outputs
Consistently ranking at the top of Google for many of their top keywords and an ever-growing range of products and services.
LearnChess
.
LearnChess Academy is a UK-based 24/7 live school chess training specialist. They partner with schools and parents to offer a dynamic and fun service, using the latest multi-media technology. Children of all ages achieve success with their online and over-the-board live coaching, games, tournaments, assignments and workshop events.
| | |
| --- | --- |
| Business type: | Business-to-business |
| Website type: | Informational & LeadGen |
| Live site: | learnchess.co.uk |
| Services used: | |
LearnChess enlisted our help to reach a wider audience and generate leads. We created a new brand identity for LearnChess to increase the company's visibility and credibility. The high-quality, SEO-friendly content we created for their target audience was published on their site.
We redesigned LearnChess's website to make it more user-friendly and appealing, then we optimised the site for search engines, so that it would rank higher in search results. The WordPress website we developed for LearnChess is easy to use and manage. And with MetaPixels hosting and managing the site, the LearnChess team can remain fully focused on their business.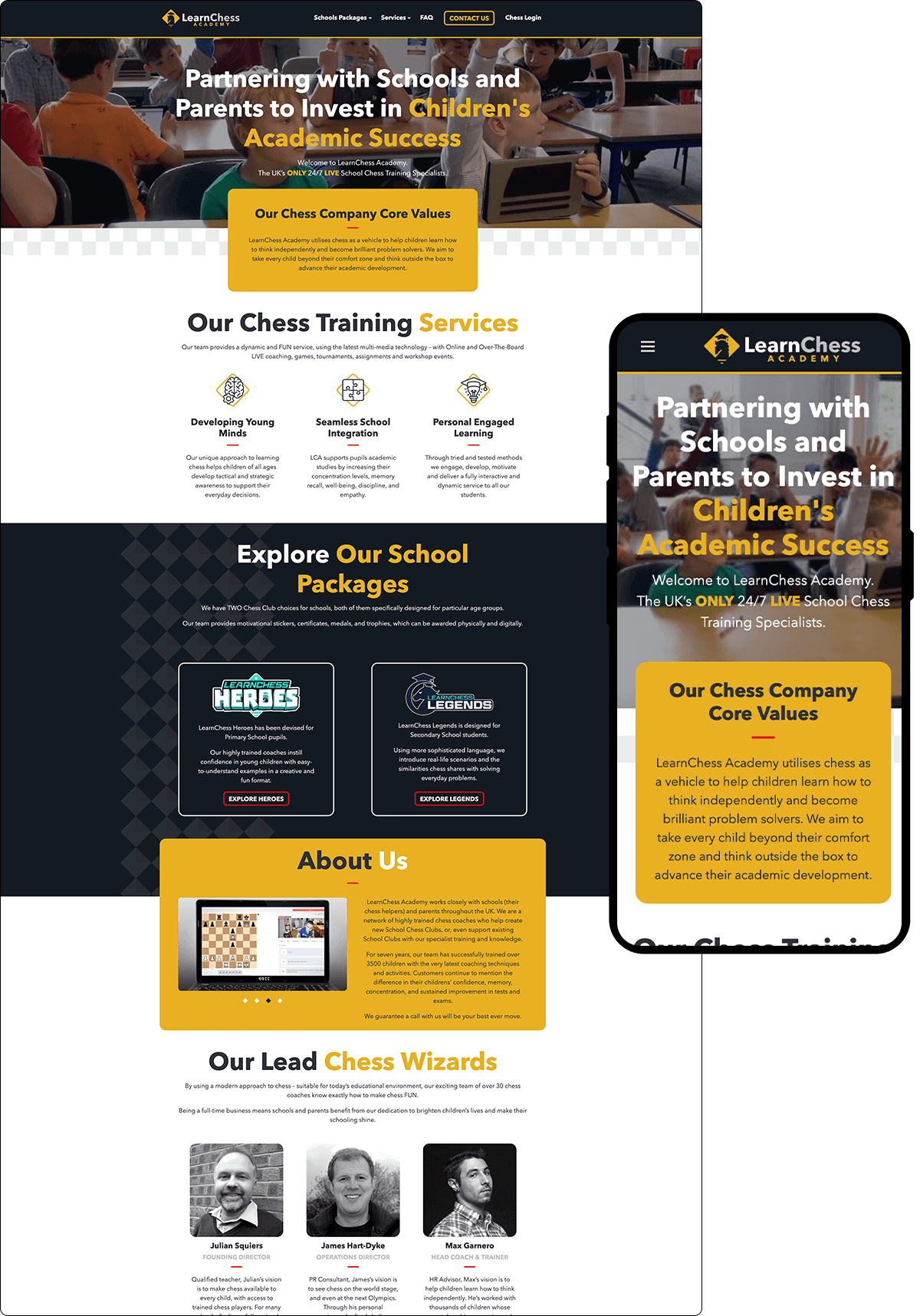 Partnering with Schools and Parents to Invest in Children's Academic Success
.
Learn more about how they apply their passionate teaching techniques to children of all ages.
Outputs
LearnChess saw a significant increase in leads. They were able to reach more potential customers and generate more sales. We are proud to have helped them achieve their goals.
JA Brooks
.
JA Brooks Mechanical Services delivers innovative, custom-built and efficient pipework and drainage systems for buildings and developments across a wide range of sectors.
| | |
| --- | --- |
| Business type: | Business-to-business |
| Website type: | Corporate & LeadGen |
| Live site: | ja-brooks.co.uk |
| Services used: | |
JA Brooks is a mechanical services company based in London, England. They have been in business for over 50 years and have a strong reputation in the industry. However, their brand and website were outdated and not reflective of their innovative approach and community ethos.
After crafting their rebrand, we then designed and developed a new website that focused on being functional, informative, user-friendly and easy to navigate.
We also implemented onsite SEO to set the website up for better ranking opportunities in search engines.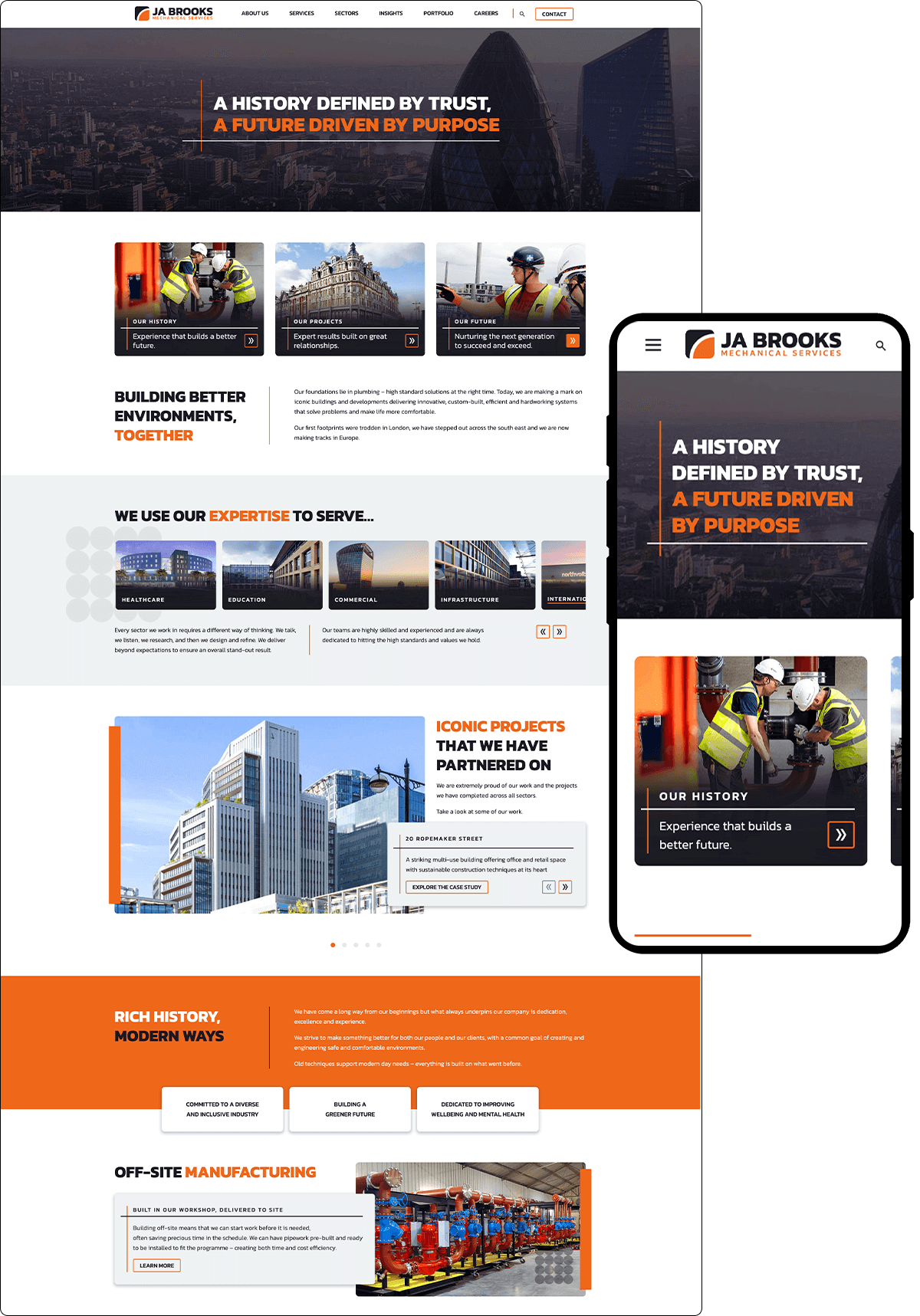 A mechanical services company with a rich history and modern ways
.
Learn more about how this forward-thinking M&E company could work for you.
Outputs
The new branding and website have exceeded expectations. They have significantly improved the company's image, giving the team a modern brand and a website that is in line with their mission.
JF Automotive
.
JF Automotive (JFA) is a car-tuning facility, that tunes vehicles for performance gains and fuel efficiency.
Their purpose-built dyno tuning facility is based in Kent. At the research and development centre, the company prides itself on its teams' experience and depth of knowledge and exceptional customer service.
With over 19,200 vehicles tuned in the last 12 years and 1100+ reviews online, they are the tuning professionals! Their services also cover performance parts and car sales, and engine and gearbox ECU remapping.
Business type:
Business-to-business
Business-to-consumer
Website type:
Online Store
Live site:
jfautomotive.co.uk
Services used:
When JFA approached us, their website was incredibly sluggish, the onsite vehicle look-up was inaccurate and slow, and some areas of the website's design were in need of improvements and updates.
We conducted a website performance audit and made the necessary changes to immediately enhanced user experience.
We rewrote the code for many aspects of the website's logic, to make it more efficient – reducing many processes from 0ver 30 seconds to under 3 seconds!
We dramatically improved both the speed and user experience for the vehicle registration look-up service, which returns and displays specific products based on the vehicle's registration.
We also built a REST API vehicle look-up service, which fetches the information from JFA's website and displays it in a widget on whitelisted third-party websites.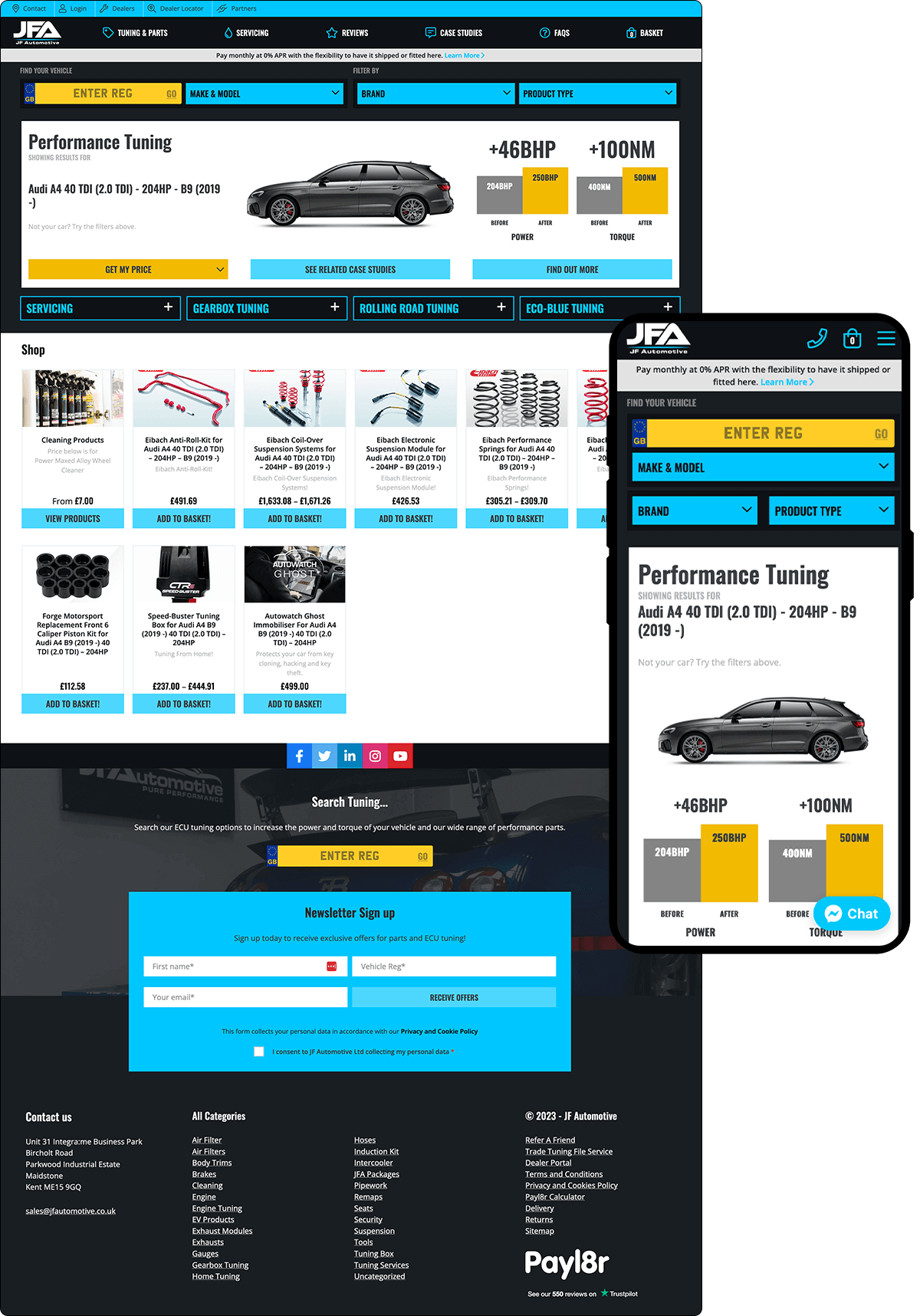 JFA is a leading vehicle tuning company
.
Learn more about how JFA can help you get better performance and fuel efficiency out of your vehicle.
Outputs
Improved critical website processes by over 1,000%!
Refined Shop and Product pages for a much slicker user experience.
Three Counties
.
Three Counties is a double-glazing company, based in Camberley, Surrey. They've been in business since 2003 and have a strong reputation in the industry.
| | |
| --- | --- |
| Business type: | Business-to-consumer |
| Website type: | Corporate & LeadGen |
| Live site: | threecountiesltd.co.uk |
| Services used: | |
Initially, we were hired to move their site and client data from one system and into two separate ones:
WordPress for the site and some client data – information about installations (type and location).
A CRM to manage leads, clients and orders
To do this we created a custom export program to extract client information from their old CRM and a custom import program to import this into a new WordPress website, and a separate CRM. This made it much easier for Three Counties to manage their client data and keep track of their leads.
We also rebuild their existing website in WordPress, so that they could more efficiently manage their content and carry out ongoing onsite SEO to continue putting them high in the search rankings for their services.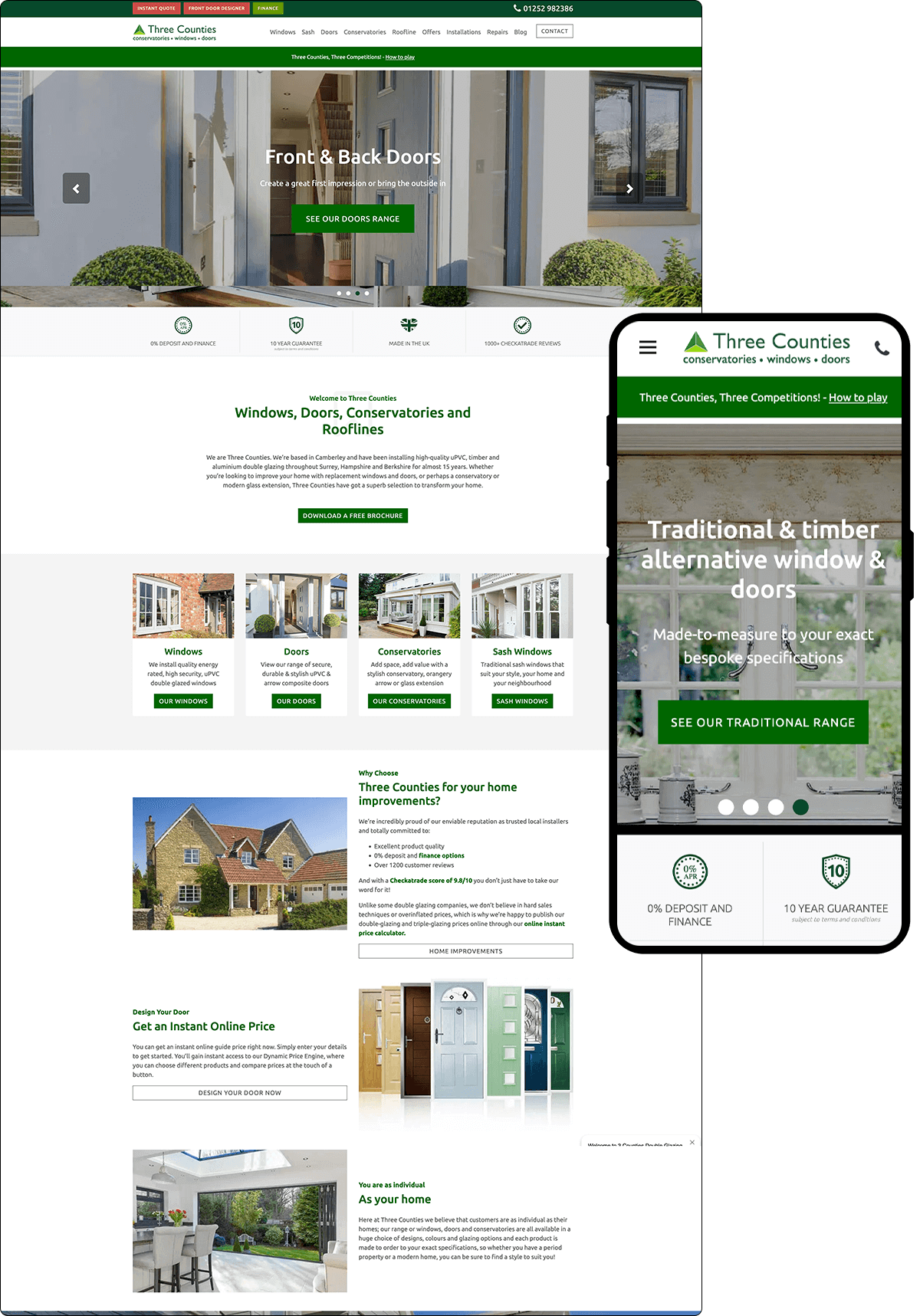 Three Counties for windows, doors and conservatories.
Learn more about how Three Counties can help with your glazing requirements.
Outputs
Successfully migrated their customer and sales data, exporting from one system and importing into WordPress and a new CRM.
Ongoing SEO management to keep them top of search engines for their glazing products.
Which Nespresso
.
Which Nespresso is a coffee machine review website, that provides reviews of many coffee machines, primarily Nespresso ones, along with affiliate links to the products on Amazon stores.
| | |
| --- | --- |
| Business type: | Business-to-consumer |
| Website type: | Online Reviews & Affiliate Store |
| Live site: | whichnespresso.com |
| Services used: | |
Which Nespresso needed a new easier-to-mange WordPress website, to better manage their content. They also wanted the site to include Amazon products, from Amazon stores in different countries.
We built them a functional and versatile WordPress theme, that has a perfectly simple, modern design.
For the Amazon products integration, we built a custom WordPress plugin, that uses the Amazon product API to dynamically fetch the products based on the geographic location of the site visitor. They needed to present the products in various ways, so we included options to:
pull products by ASINs or keywords
display product comparison tables
display product cards, buttons & rows
We also built a short-term product cache to reduce call to the Amazon API.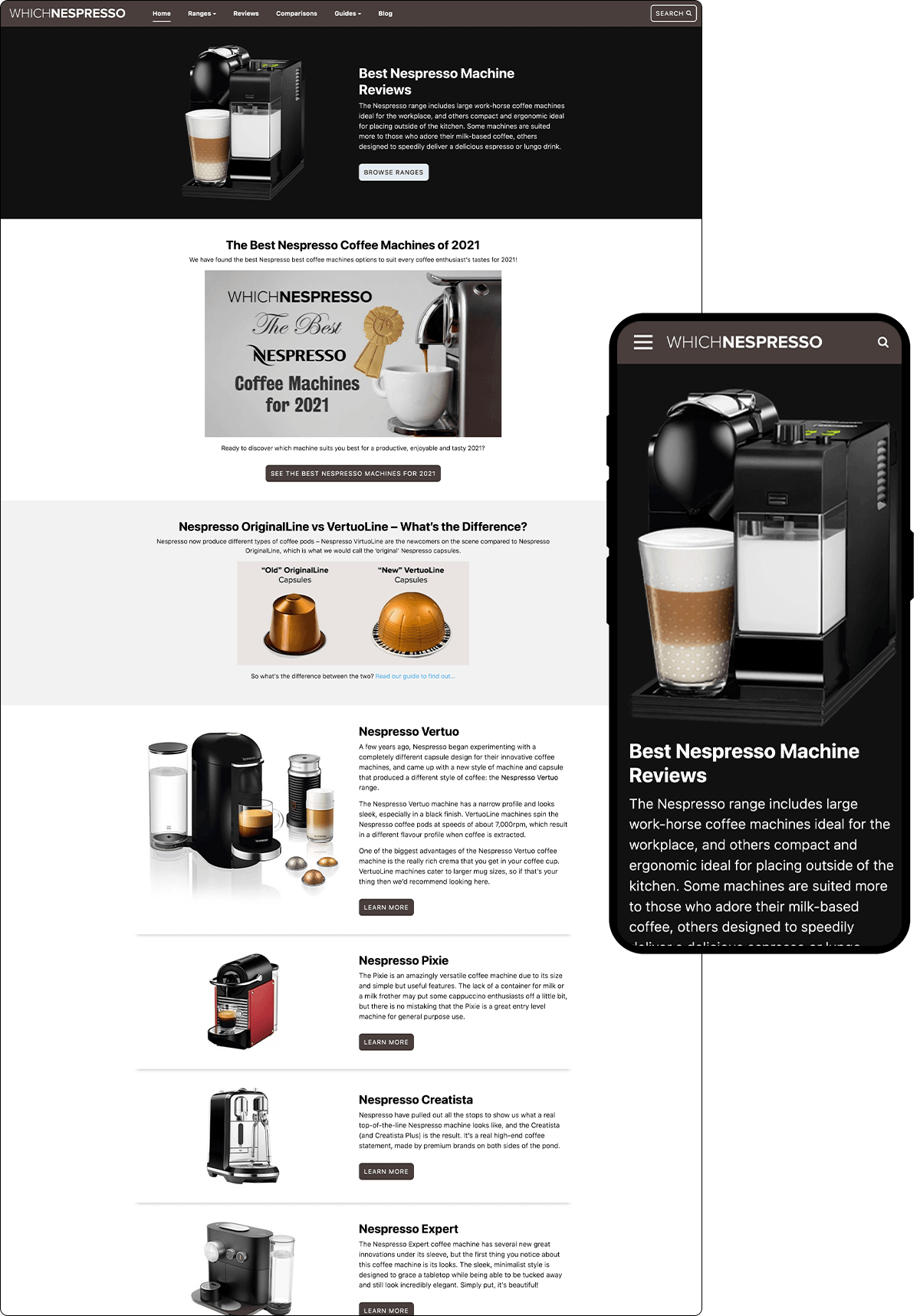 Which Nespresso provides coffee machine reviews, comparisons, guides & more
.
If you're looking to purchase your next coffee machine, Which Nespresso is the place to start.

Outputs
An easy-to-manage website that supports pulling in Amazon products from multiple Amazon stores, dynamically, to show up-to-date pricing and availability.